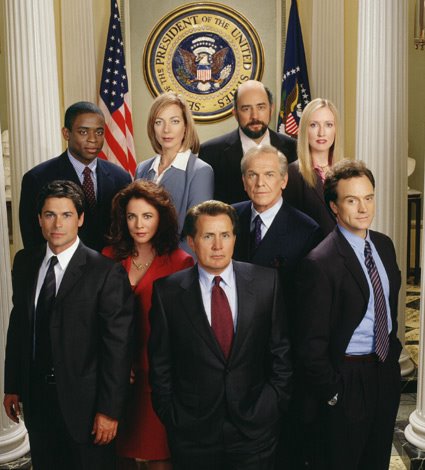 The West Wing is not a new show; in fact, it was on the air from September 22, 1999 to May 14, 2006. Everybody's binge-watching these days: Breaking Bad, Homeland, Prime Suspect, Angels in America. You're watching some older shows because the DVDs and boxed sets weren't immediately available. Long after The West Wing ended, Twitter accounts for many of the characters began to appear in 2010.
If you have the boxed set of The West Wing, you're looking at 47 discs. This is how addictive it is:
You'll lose sleep.
All your auto-recorded shows will fall off your list.
You'll want to take a leave of absence from work.
Binge-watching has its benefits. Of course there are no commercials. Another advantage is that you don't have to wait for the new season after being presented with a cliffhanger.
The West Wing revolves around President Josiah Bartlet (Martin Sheen) and his senior staff. It is somewhat serialized but also includes new plots in each episode. It could really be called a dramedy. You see great stress and drama every week. There's also a good serving of humor. Creator Aaron Sorkin, who wrote every script for the first four seasons, planned on the President's appearances once a month. Instead, Sheen was in every episode. Rob Lowe was assumed to be the big draw, but after four seasons he left the show after the emphasis switched to Bradley Whitford's character. Not the greatest career move.
The cast consisted of 15 major characters in its seven seasons, but there were many cast changes. Eight actors appeared in every season. There were some I didn't like. OK, I'll say it: Moira Kelly (who disappeared after the first season); Mary-Louise Parker (sorry, I just can't stand her nasal and monotone voice); and Mary McCormack (although I liked her in Murder One).
There were people in the background with pretty good resumes. Two pollsters and six former White House staffers (including two former press secretaries) acted as consultants. Former senate aide Lawrence O'Donnell wrote several shows and was also an actor, portraying the president's father in flashbacks.
The show, the actors, producers, directors and crew won more awards than they had shelves. They included Emmys (26), Golden Globe and Screen Actors Guild awards, and the Peabody – twice. In 2013, TV Guide ranked the show #7 in its list of the 60 Greatest Dramas of all time, and its readers voted the cast the Best Drama cast of all time. The Writers Guild of America ranked it #10 in its 101 Best Written TV Series List.
It's fun to spot the changes in certain issues. There was no medical marijuana (the Surgeon General was almost fired for talking about it), and gay marriage was referred to as a state issue, as it is now, but backing it would be political suicide.
In many ways the political situations stand up to today. Maybe that means there are problems we haven't solved since 2006.